John can help you design and build a custom piece of furniture. He is a master craftsman and has 18 years experience. His shop is located in Croton, OH which is about a half hour northeast of Columbus, OH.
Call or text John today! (614) 565-9687
John was the First Place Winner at the 2012 Woodworking Show in Columbus, Ohio!
That qualified him for the national contest…which he also won!

John was named the 2012 Master Craftsman and the National Winner for the ShowOff Showcase!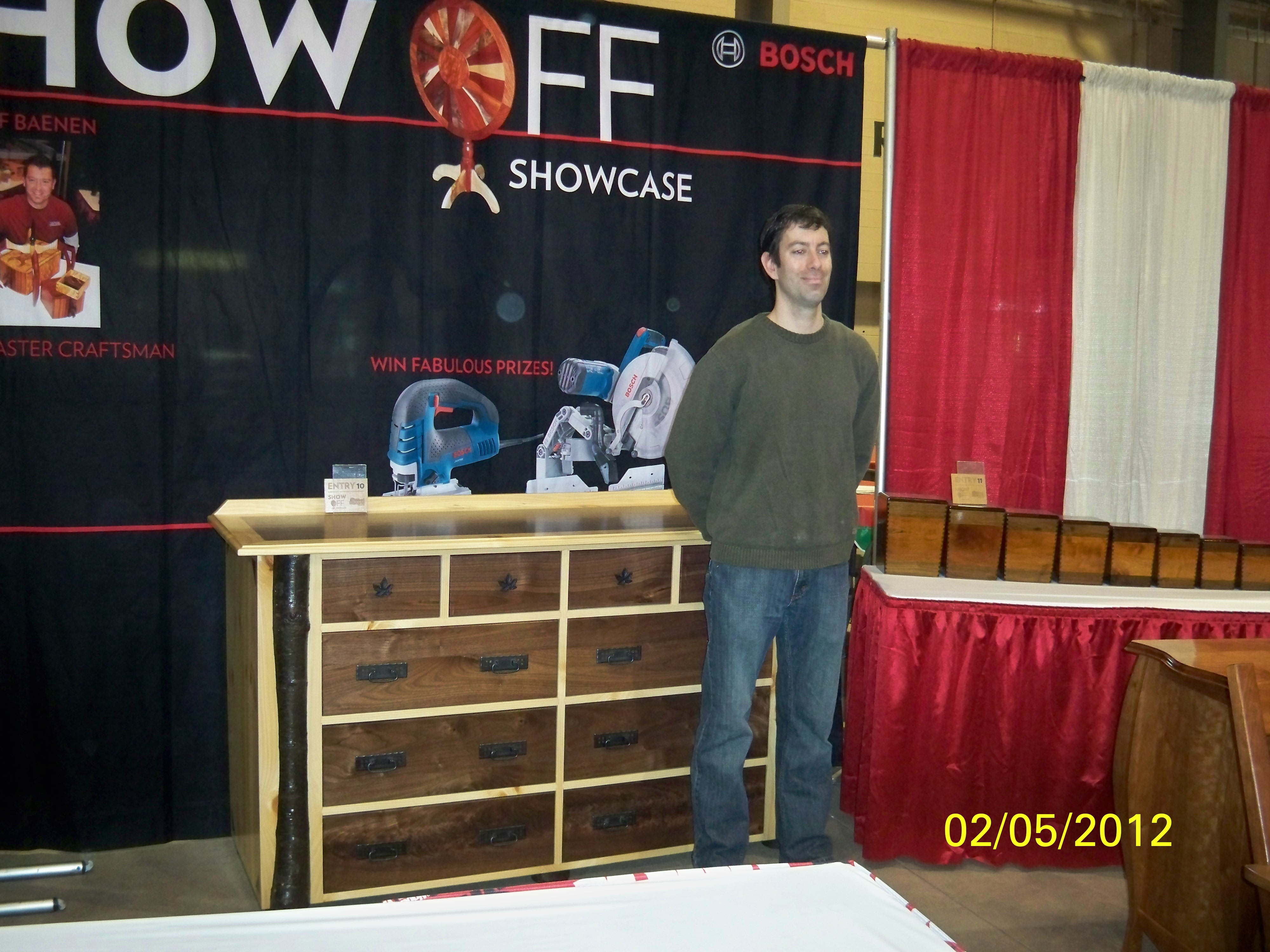 Reviews
"John refinished existing kitchen cabinets and reworked existing kitchen cabinets to accommodate new shelving arrangement, made new cabinet doors to match existing cabinet doors. He also refinished the wainscot and basement door in the kitchen and reframed the doors, window, and installed new woodwork.
He made new cabinet doors, per our design, for a wall of existing shelves in the dining room from scratch–to match dining room furniture.
When we redo the bathroom in the future we intend to call him back again: when we find someone who does good work and proves to be trustworthy we stick with that person. John stands by his work. He goes that extra mile to make sure the customer gets exactly what they have asked for. He does good work and doesn't leave a mess behind."
Daniel and Elizabeth L.
"John built a maple counter height table base stained to match my kitchen cabinets. John followed all details on drawings that I had prepared. I had a granite top fabricated that slipped over the top of the base.
John was recommended by a sales person at a furniture store, as I was unable to find the exact table that I wanted. I called John & we set a time for me to come by his shop so he could review my drawings. John provided me a quote via e-mail within the 2 day time frame he had identified. I sent him an agreed upon down payment to cover the cost of materials he would be purchasing. John called me within the 3 week period he had identified & we set the delivery date & time. John arrived on time. After setting the table base in place at taped locations on the floor, John helped me set the granite top on the table base.
My experience working with John from beginning to end was very good."
Toby H.
"We are a moving company, and we handle tens of thousands of items throughout the year. Once in a while minor damages occur no matter how careful we are, by the nature of what we do. John is our exclusive furniture repairman. He always takes good care of our customers and does a good job with repairs. If it is a small scratch, or a broken piece in need of repair, his work is always excellent. He keeps his appointments on time, and his demeanor with the customers is always friendly and helpful. I would recommend his services whole heartedly."
Mark Thompson, Mark Thompson Moving and Storage
"Dining room chair had broken piece. John custom made a new piece to replace broken piece. Did a very good job to match shape and coloration. You would not know it had been repaired. Picked up chair at my home & delivered to me when completed. He is very good and reasonable for this kind of custom repair work. Very well. Could not have been any better."
"John repaired scratches on 2 wood floors & gauge in dining room table. Very efficient $ & knowledgeable in services performed. Table & floors look GREAT after repairs were performed. Very pleased with work that was done."
Jeffrey F.
"I have a set of twin beds that belonged to my grandmother and I cherish them. The footboard on one broke where the side rail goes into it. I was devastated. My husband knew someone at our church that makes and repairs furniture. His name is John Haywood. He came to our house picked up the footboard and took it with him. He returned it about a week later and it looks as good as new!!! Very pleased with his work!"
Kris S.
"Everything repaired looks great – you can no longer tell there was any damage even under bright lighting. I contacted John on 8/3 and he agreed to come take a look the following day (8/4). He was able to do the repair work that same day since it was all relatively minor. He was very professional, friendly and polite. He even offered advice on furniture care while he was here.
On a side note, I had contacted several furniture repair companies prior to this. The moving company we used for the long distance relocation does not have an office here and therefore did not handle the arrangements for these repairs. I had trouble finding a company that wanted to do onsite repairs. One company even wanted to charge me a large amount of money for an estimate. Other companies wanted me to haul all my furniture to their shops for these minor repairs. Finally, I contacted several local movers to ask for their recommendations. John was very highly recommended by one of the movers. I would definitely recommend him and would hire him if I need any repairs in the future."
Linda B.
"We used John T. Haywood Custom Furniture. He did a couple of jobs for me. He refinished the top of a desk, and he did a superb job. He also refinished the top of two tables for me. John was fantastic. The guy is really good."
John K.
"Previous refinish of table yielded so many compliments that we had more pieces repaired and referred family and friends to him. Family heirloom furniture badly damaged and John restored it, provided tips for long term care."
Sarah P.
"Contacted John and asked him to come to my house and look at an end table that had been ruined. I put a cheap fan on it and the rubber tips of the fan adhered to the table. The damage was down to the wood. He came over and took a look and said it was a veneered table. I bought the table from Macy's and I thought it was a quality piece of furniture. I used furniture polish on it (which John told I should have never done). He offered to repair it for $200 but I think he probably should have charged more because he had to completely refinish the entire top which had (don't know the correct word) a border painted on it. Anyways, after a few weeks it came back better than new and beautiful."
Kris S.
Custom Furniture in Columbus, Westerville, Dublin, Muirfield, Powell, Worthington, Reynoldsburg, Canal Winchester, Orient, Sunbury, Gahanna, Upper Arlington, Bexley, Hilliard, Grove City, Newark, Heath, Granville, Plain City, and surrounding areas. Antique Restoration, Furniture Repair, Furniture Refinishing.